GUEST POST: Table Mountain Trail Run with Run Cape Town
Gemma from www.africamarathons.com joined us for two trail running tours in Cape Town last year, and on her most recent run she was joined by some friends on our Table Mountain contour path trailrun.  She wrote this lovely blog about their experience with running guide Andy- THANK YOU for the kind words, Gemma, we look forward to welcoming you to the Mother City again in early March!   🙂
On my recent trip to Cape Town with my running friends, I booked a run tour around Table Mountain with Run Cape Town, and here I describe my experience.
Run Cape Town
When I was in Cape Town earlier this year, I took part in a running tour around Lions Head with Run Cape Town, which I absolutely loved. Run Cape Town specialises in running tours around Cape Town and offers some fantastic routes. I loved my previous run so much that I wanted to do another one and I knew who to book with for this trip! I also loved experiencing running on the trails high above the city on the last run so it had to be Table Mountain this time.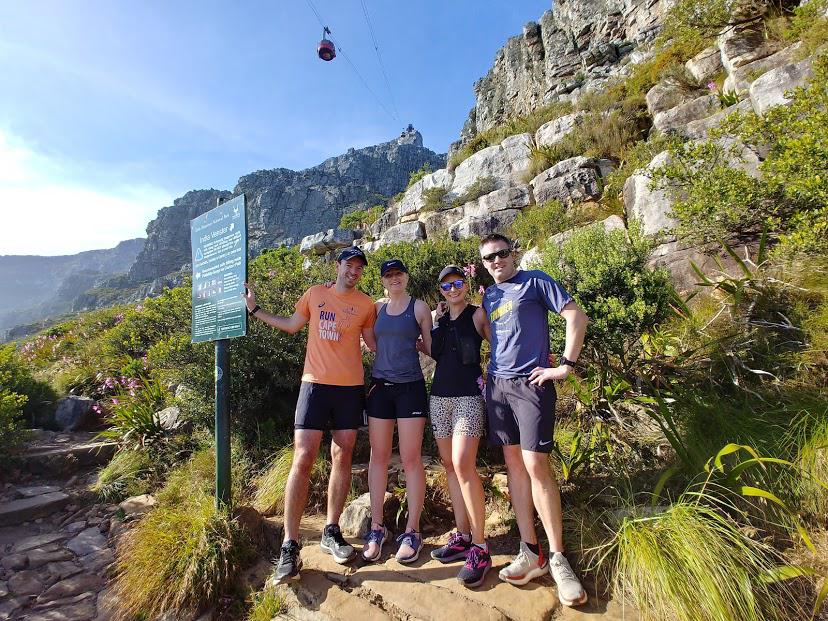 The Trail Run Experience
On the day of our run tour, we were greeted bright and early at 7 am by Andy, our run guide. He drove us from our hotel up to the car park at the start of the trail around Table Mountain. We had a beautiful sunny morning and when we arrived the views of Cape Town were incredible.
We then set off! To get onto the main trail, we had to start with a hike up a fairly steep path, which served as a perfect warm-up for the run. Once we got to the top of the trail, we stopped for a quick break and some photos of the magnificent view of Lions Head and the city.
We were then able to start our run on the contour path of Table Mountain. We had a nice comfortable pace as the trails were quite technical and challenging. I loved this as the pace allowed me to navigate the paths safely while taking in the spectacular views. I was also glad to be wearing my Brooks Cascadia 14 trail shoes, which provided excellent grip and support. During some parts, we had to walk as the path was too difficult to run on but this served as a little recovery each time.
Spectacular Views from Table Mountain
Along the path, we stopped a few times to have a breather and to take in the scenery. Andy knew exactly where to stop for the best views, all of which were fantastic. During one of the stops, Andy gave us some water, biltong and sweets, which was a nice little energy boost. He also used the stop to provide us with some information on Table Mountain, which was very interesting.
Once we reached the end of the path, we then took the route down back to the road at the bottom. We ran the last couple of kilometres on the tar road which felt much easier after the trail paths and we were able to pick up the pace a bit more. Before we knew it, we had finished. I find the time flies when you run on trails as you spend all of your thoughts on where you are stepping and the views around you, and this run was no exception. It was one of the most enjoyable runs I have ever done, and I think it's a challenge to find a run with better views than this. Thank you Run Cape Town for a wonderful run and the best start to the day! I'll certainly be booking another Run Cape Town tour next time I'm in the Mother City.